Whats up Ladies and gents I'm going to knock out most of the interview thingy right here. my names Wade I live in central Texas I've been wrenching on thing since I was little, cut my first truck in half when I was 15 to do a back half on it. Since then I've built a 985RWHP SRT 10 Viper truck and most recently I built a 2009 Hemi turbo set up it made right around 620ish RWHP and we could not keep a transmission in it. Me and the wife decided to sell the Ram to clear up some room for buying a house. That's how I stumbled across this truck. Always wanted one just never could find the right one but this really just fell into my lap. I currently work overseas "can't really explain where" But I'm home and month gone a month. My Hobbies are drag racing, and making things different than the rest of the people. I like riding my Harley and long walks on the beach..hammered
my shop dog is a Full blooded English mastiff she slobbers and drools every where but when mommys mad at me. the Dog and I ease our way out to the shop haha. Enough about me heres some info on the truck.
Truck Info
Manufacturer: Chevy
Year: 1965
Suspension type: Lowered Soon to be on air ride
Front Brakes: power
Modifications:
Rear Brakes: power
Steering: power
Front differential type / Gears: none
Rear differential type / Gears: not sure to be honest
Tire and Wheel Size: 15" steelies
Body
Color Scheme: we will call is slightly patena'd lol
Bodyman: me
Modifications: none
Paint Type: which layer
Painter: me
Interior
Color: white
Material: cloth
Upholsterer: me
Wiring: me
Modifications: none
Steering wheel/Column: stock
Stereo/Speakers/Amps: none
Air Conditioning: none ,don't need any
Instrument Gauges:
Engine
Cubic Inch: 350
Manufacturer: Chevy
Camshaft: stock
Cylinder heads: stock
Valve Covers:
Intake Manifold: Edlebrock
Ignition System: HEI disturber
Exhaust type: Magnaflow
Carburetor or Fuel Injection: Carb
Transmission
Automatic / Standard: Auto turbo 350
Torque Converter: stock
Modifications: none
Shifter type: lokar
Drive Shaft: stock
this is the best picture I have at the moment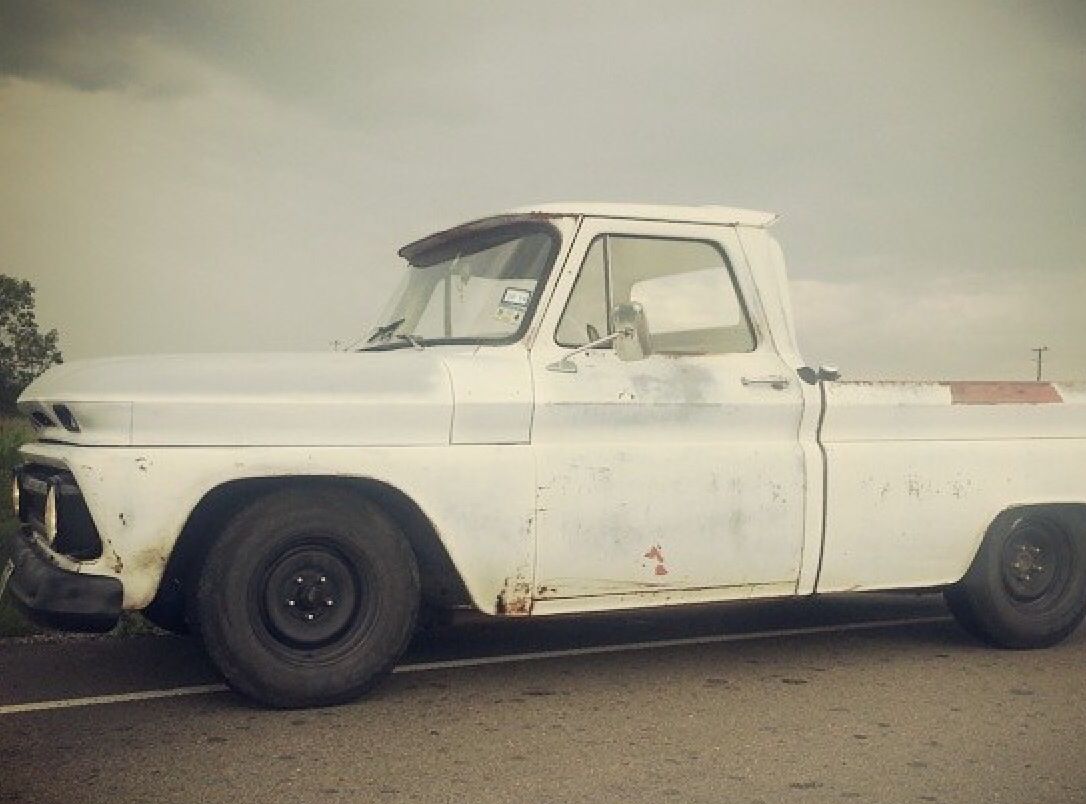 plans for the truck are build the motor, go to a powerglide, build turbo set up,air ride drive the heck out of it. really looking for some strong motor info.
Previous truck
the truck working
http://youtu.be/C82SkIa35mw